Newcastle CREST have been active this week assisting the Native Animal Trust Fund (NATF) in the Salt Ash area. Native wildlife were found in the area injured or killed by the recent fires.
CREST established radio communications to provide a safety net for the NATF volunteers.
Sadly many animals could not be saved from the fires and had perished. Only a small number of injured animals were treated including one koala that was assisted by the volunteers on site and relocated for long term recovery.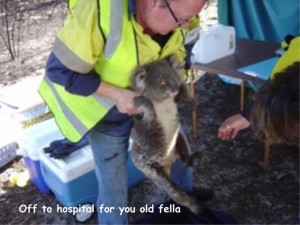 Newcastle CREST has a long and proud history with NATF who rely on the communications network to work safely in a dangerous environment following fires.
Further information about the NATF is available on their website at: http://www.hunterwildlife.org.au/