On 29 November 2011, Mr Evan Longworth was awarded a service award by the Newcastle City Council for his outstanding contribution to emergency services and community organisations servicing the Hunter region. Evan has been a member of CREST NSW for some 30 years, has worked as the Newcastle Operations Director and is currently the NSW State Director.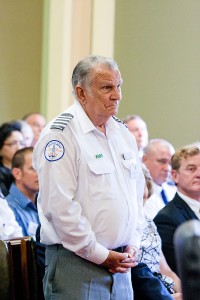 The Newcastle Community Awards recognise outstanding effort and achievement by Newcastle individuals or community groups.
The City of Newcastle Service Award is awarded to individuals, organisations or groups for service to a specific field of activity. Community Awards show appreciation for the service, commitment, effort and achievements that make a difference to the lives of people in Newcastle.
Evan was joined by members of the Newcastle CREST team at a function to celebrate this achievement.
Photographs courtesy Photolook Newcastle